Welcome to our Orchid special site.

The presentation and special offers are targeted to members of the Ganoksin/Orchid community.
If you are no member yet, we strongly encourage you to explore the wealth of information, tutorials and much more related to jewelry making from bending your first wire to highly demanding pave setting techniques, including lost wax casting somewhere in between.

All bench jewelers creating their designs by carving wax or sophisticated 3D printing technology have one thing in common: the need for a small casting setup that is a match in terms of size and quality - like ours.
Cast and Cast/T of Ti-Research are centrifugal casting machines for small scale production. Your benefits:

- No headaches with shipping of patterns
- No expensive shipping of valuables
- No delays with casting jobs
- Full flexibility with customer preferences
- Casting of one of a kind designs
- Casting on demand, even same day
- Full control of expenses
- Your design from the idea to the finished piece under your roof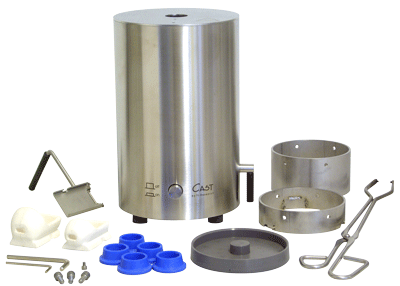 Cast made of stainless steel, that is:
- robust

- long lasting

- safe

- easy to use

- low maintenance

- top value

Conventional wax patterns
State of the art printed parts
Natural objects
Cast provides:

- versatility in use of metals from silver, gold, stainless steel, and platinum
- better results by centrifugal force unrivaled by vacuum only
- higher level of protection from operational hazards by fully closed cabinet
- robust quality by all stainless steel design Made in Germany
For more information see: specifications and video.
Take advantage of your in house casting. Treat yourself to something valuable in your workshop and order your favorite Cast today.

Yes! I go for safe, reliable, long lasting products:

fill and send order form (identify yourself as Ganoksin member for discount).
| | | |
| --- | --- | --- |
| Item # | Description | Price (US$) |
| 1010-00 | Cast/T tabletop centrifugal casting machine | 2,605.00 (rrp: 2,895.00) |
| 1020-00 | Cast recessed centrifugal casting machine | 2,785.00 (rrp: 3,095.00) |
Prices quoted are exclusive all ancillary costs and statutory rates of VAT.
Promotion may be altered or terminated without prior notice.

More information:
Brochure
Detailed product information